<![if !vml]>

<![endif]>



Latest update: 12 jan 2016
Playing now: "Spring" by Vivaldi
Tuesday May 26, 2015

Almost exactly two years ago we updated our homepage with our Gothenburg Half-marathon running friends Jörgen and Torbjörn relaxing with a Leffe Blond each after a well executed run. This time without their families though.
A lot has happened to us in these two years and we will come back to that later.
Monday April 14, 2014
With a little bit of luck, there will be an update in a not too distant future....
Wednesday May 16, 2012
Last weekend, the Gothenburg Half Marathon took place and we had our friends from Skåne visiting us like they have been doing the last ten years. Here are Torbjörn and Jörgen enjoying the traditional Leffe Blond that we offer them after the race.
As Sunday was a lovely sunny spring day, we all took a walk in the hills. Here is Mona shooting a picture of the two families at Kråkudden.

We went all the way to Ärtholmarna where we enjoyed the sun and the view with a picnic. Here are Torbjörn and Tina in the sun.
The dogs also enjoyed the long walk but laid down to rest in the sand like Tippie does here.

On Monday, the old Volvo crew took Bjarne, who had his 70th birthday while being in Spain in April, on a surprise supper at Restaurant Jungman Jansson at Önnereds Brygga. We had a few hours of pleasant company and good food and we are now trying to agree on a date for a summer/fall activity. This is not easy though, as everybody, although being retired, seem to be very busy.

Sunday April 8, 2012
Felix smiling at the camera at his seventh birthday
Jan 10.
After having worked on the boat for two months Ulf managed to launch it already March 29. Because it had been sitting in Donald's workshop, sheltered from the dry winter winds, it did not take in much water so after a couple of days hanging in the crane, Ulf could move it to a regular mooring.
Here is Alfons on his 10 year party in March.
Yesterday we went up to join a few hundred other islanders at the local Easter bonfire. First they lit a fake fire in the hope of fooling the other islands to light their big ones. It never works, of course, as all islands do the same!
After a cold and windy but sunny day, the wind stopped and in spite of the fact that temperatures dropped to freezing it turned out to be a quite comfortable night.
Lots of spectators in the Röd hills, drinking beer and firing firecrackers and rockets.

Tuesday March 13, 2012

Tommy and Jonathan
The 15th of February we were blessed with our 6th grandchild. Another little boy who's name will be Jonathan. The reason why we have not published this earlier is probably that we are getting blasé with all these grandchildren popping up as mushrooms in the forest... Sorry, Tanja and Tommy!

Friday January 6, 2012
In memory of Gerard "Chico" MacLean, one of Ulf's oldest and dearest Canadian friends who passed away on December 31

Monday January 2, 2012
We wish all our friends a
and a proseperous

Sunday October 2, 2011
Finally, after a loooong absence, it is time to make a recap what has happened to us since our last update in May. Below you will find some photos of different events that have taken place during the summer. We have, as usual, been quite busy with out B&B so the summer was rather eventless except for the fact that we had Stella's five puppies to nurse from May until early August but more on that below.
We notice the increased competition from new youth hostels and other accommodation facilities on our islands resulting in fewer bookings than last year which was a record year. We don't mind though, as people who are depending on this for their living should of course have priority from the Tourist Office.
Anyway, here is what has been going on lately with the most recent first:
September
We got the word from Wayne, Ulf's former colleague from Volvo Canada that he and his wife Maureen were planning to visit their daughter in London and also make a trip to Belgium and Amsterdam. As we had only seen them once in the last 35 years or so, at our visit to Halifax in -95, we of course planned a trip to Belgium to meet with them there.
We made the trip to Gent in two days and first made a stop in Bremen where we slept in a B&B which we agreed was not to the standard that we offer ourselves. Although we brought our camera with us, Ulf tried his new Xperia Ray telephone that we got just before departure during our walk in Bremen:
The next day we continued to Gent and unlike every other time that we have been there we had booked a room at the very nice Gent River Hotel where Ulf had negotiated a fair price with Philippe, the general manager that we also know from the Gravensteen Hotel. The two hotels belong to the same owner as well as Hotel De Flandre, also in Gent.
Although a different hotel, but Ulf does not deviate from his habits: A refreshing beer in the bar before going to the room.
As always we had some good days with our friends; here a relaxing aperitif at Anke's and Jacky's before going to the Scheve Seven (the crooked seven) restaurant in Zomergem for an excellent piece of steak. Jacky was kind and took Monday afternoon off to spend it with us for some shopping in Gent.
We also met with Agnes and her daughters Mieke, with 2,5 month old son Robin, and Inge with part of her family. We also had a very nice mussels supper together with Mieke Van Parys, Ronnie, Emile and Victor at their home in Balegem.
On Wednesday morning we checked out from the hotel and drove to Hekelgem to pick up Maureen and Wayne. As they had never been to Brussels, we took them there for a short sightseeing tour before proceeding to Amsterdam:
Before leaving for Amsterdam we also passed Atomium.
In Amsterdam we did some sightseeing and were amazed that Cannabis starter kit was sold openly at the Flower Market. We also visited the Van Gogh Museum which we found quite interesting.
We left Amsterdam on Friday morning, spent the night in Burg near Puttgarden and filled the car with beer, wine and whiskey at the Border Shop barge before returning home.

September 4 - Mona's birthday
Mona had made an appointment with some of her whippet friends to make a walk at Rörö in the afternoon so we embarked on the boat and drove there. Gunnar with family also came up there in their boat and together we made a long walk and had a birthday picnic with coffee and cake at the waterfront.
Although Sunday, we managed to get hold of some crayfish and had a little crayfish party in our garden in the evening.

August
In August it was Emilia's 11th birthday and here are some pictures from her birthday party.

Also, mid August, Ulf's childhood friend, now living in Kalmar, visited us together with his wife Christina and dog Casper. We had a couple of nice days together. Here we are at the sing-song with Harald Treutiger at Björkö.

July
Stella's puppies grew quickly and they all became nice little dogs. It was a bit of work though and luckily we had Emilia and Nora from Helsingborg here to help us during our busiest B&B week. Here is a selection of pictures of the puppies at the end of June/beginning of July. The first week of August they were delivered to their new owners.

June
Family barbeque at Hönö

May
Volvo weekend in Varberg with surroundings
Yearly visit from our Gothenburg Half Marathon friends

Monday May 16, 2011
It was sooner rather than later... Yesterday evening between 19.30 and 21.00, Stella gave birth to a litter of five healthy puppies, three bitches and two males. All of them weighed between 300 and 320 grams. Our breeder Anita came here just in time and although Stella delivered them herself without any complications, Anita helped to rinse their mouths from fluid, dried them a bit and cut their umbilical cord. She also made sure that they found the nipples and started to eat.
Stella seems to understand the duties of motherhood instinctively and is a very patient mother. We almost have to force her to go out on the lawn to do her thing although she is very much in need. As soon as she is ready she rushes in to her puppy box again.
To watch the delivery of the puppies was an altogether new thing for us and it was a very touching moment.
As it was the namesday of Sofia and Sonja yesterday, Anita gave them preliminary puppy names on "S"; Sofia, Sixten, Sture, Stina and Sonja. Later on they will be given their real names which all will start with "R".

Saturday May 14, 2011
In memory of Gilbert, one of our oldest and dearest Belgian friends who passed away on Tuesday May 10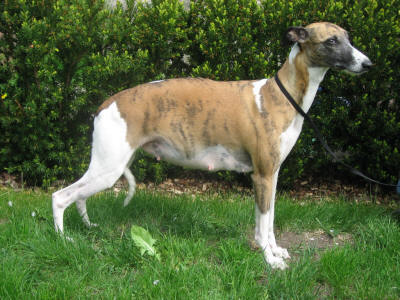 Stella May 12
Stella is now seven weeks pregnant and we are expecting the birth of the puppies within a week. Exciting!
Last weekend we spent with our friends in Belgium. On Thursday when we arrived, it was Jacky's 50th birthday and we started celebrating it with a very nice cheese and wine gathering at Els' and Nico's place where we would sleep for two nights.
On Friday we all went into Gent for some terrace hopping and also some shopping and here we are at the Zwarte Zee on Graslei. The weather was fantastic with temperatures in the mid 20's (77° F).
In the evening we were all invited by Jacky and Anke to a fancy countryside restaurant to really celebrate Jacky's birthday. There we had nice steaks and we were sitting outdoors until late in the evening.
On Saturday, while Mona and Anke were shopping flowers at at nursery and meat for the evning barbeque, Jacky and Ulf went with Els and Nico to a manège to watch Laura doing her jumping practice.
To the right is Laura on her beautiful horse.
Again it was a beautiful day with temperatures close to 30° C (86° F) and while waiting form Mona and Anke, Ulf and Jacky relaxed in the sunshine at home with some beers and some snacks.
As said, later in the evening we had a barbeque on Anke's and Jacky's back porch. We were also joined by Hilde and Vincent and here are some pictures from the evening which again was nice and warm and we could stay outside until midnight:
When we arrive back in Sweden we also got some nice summer weather, although it has gotten a bit cooler at the end of this week. However, the August Pear tree has finished flowering and most of the trees have all their leaves by now. Today we have got a well needed rain as it hasn't been raining in a long time.

Thursday May 5, 2011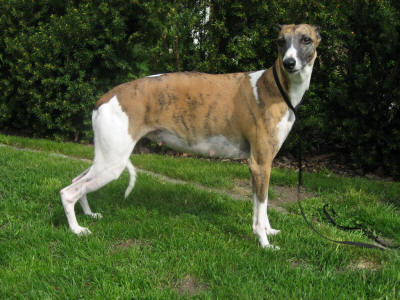 Stella May 5
Stella is now six weeks pregnant and she seems to be swelling every day. In about two weeks she will deliver the puppies and we are full of expectations.
It is now only a couple of hours before we head for Gothenburg City Airport for catching the flight to Belgium. Stella will spend the weekend with her breeder and her six whippets and Fraola and Tippie will be taken care of by Emilia with family. Hopefully we will have some nice pictures for you when we return after the weekend.

Friday April 29, 2011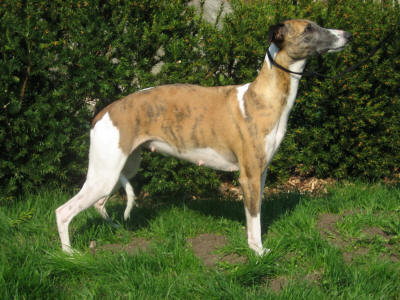 Stella April 22 Stella April 28
Now, the growth of the stomach is really starting to show on Stella. Compare with the first picture of her in April 7 further below.
The beautiful weather is continuing, although it has become slightly cooler. Mona has spent several days in the garden trying to clean up all the growth in slope in the back of the house. We also had to take down a dead tree that we accidentally killed a couple of years ago.
Now she is trimming the Taxus hedges.
It is now only a week before we take off for a weekend in Belgium. We are really looking forward to seeing our friends there again and to drink some Belgian beers.
We are leaving on Thursday afternoon but hopefully we will be able to post a new picture of Stella´s development before we leave.

Good Friday April 22, 2011

In loving memory of Elvis who we had to have euthanized yesterday at the age of 20 years and four months
After a rather long and cold spring, we have now been blessed with almost summer like weather. The sun is shining and although the sea is still bringing a cold breeze, the days are giving us temperatures above 20° C (68°F). The birds are starting to sing and above all, the blackbird is giving us its wonderful tribute to the spring in the mornings and the evenings.
Thanks to the weather, Ulf has managed to fix the most necessary things on the boat and he launched it yesterday.
Stella is now starting to become a bit rounder so it seems as if she is pregnant after all. Her breeder visited us today and her estimation is that we should expect 6-7 puppies. At five weeks pregnant, she is obviously rounder than she was at her last pregnancy. Estimated time of birth is around the 20th of May.

Stella April 14 Stella April 22

Thursday April 14, 2011

Stella April 7 Stella April 14
Stella is now four weeks pregnant (if she is pregnant at all...). As far as we understand, it should show by now, but we can not really see any difference from last week. We are starting to doubt that she has any puppies. Maybe we will have to wait until next time she is in heat, at least seven months from now...
Check back next week to see if there is any progress.

Thursday March 31, 2011
Finally, again after a long time, we are back in business. It has been a long, cold and snowy winter. As a matter of fact, December was the coldest month of December since recording started, some 153 years ago. Here are some pictures from the beginning of January:
All of it is now gone except some packed snow and chunks of ice in shady places. However, today it is raining so we expect all of it to be gone by tomorrow.
Temperatures are rising and this weekend we are expecting a bit higher than the 6-8° C (43-46° F) that we have had so far.
The snowdrops are flowering and the daffodils are starting to show under the pear tree.

Ulf has had some problems with our PC. He could not determine whether it was the hard disk on its way to give up or if it was our old Windows XP that caused the problems. Mona didn't care as since last September she is only using her laptop that Ulf gave her for her birthday. Anyway, we were facing an investment of SEK 6-7500- (~EUR 650-800-) for an new PC so Ulf decided to try to upgrade our present ancient one. He invested SEK 1500- (~EUR 170-) in a new hard disk, a new graphics card and some additional RAM and, after some hassle, he has now managed to get it working and installed a fresh Win 7 and reinstalled most of the other programs. If our website does not look normal or does not function as before, it could depend on the new version of FrontPage that we now are using. We will have to fix it as times goes by.

In December, Emilia and Elisabeth went to a photographer to have their pictures taken. Here are some of Emilia that Gunnar sent us. Isn't she gorgeous?

Two weeks ago, Stella, our foster dog, was taken to Katrineholm to be mounted by a male that our breeder had found there. If everything works as planned, she will have a litter of puppies around the 20th of May and we will be pretty busy until end of July when the puppies will be delivered to their new owners. After that, she will be entirely ours.

Thursday May 5 we have booked two tickets by Ryanair to Charleroi, Belgium and spend the weekend in Gent. A mini holiday together with our friends before the B&B season starts. We are certainly looking forward to getting away for a few days.
Before that, Ulf hopes to have the boat fixed and launched.

End